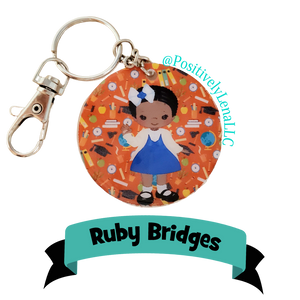 "Don't follow the path. Go where there is no path and begin the trail. When you start a new trail equipped with courage, strength, and conviction, the only thing that can stop you is you!"
                                                                                                               ~ Ruby Bridges
Ruby Nell Bridges Hall is an American civil rights activist. She was the first African-American child to desegregate the all-white William Frantz Elementary School in Louisiana during the New Orleans school desegregation crisis on November 14, 1960.~ Wikipedia
Materials:

2-inch MDF
Vinyl
Shipping: 
All products are handmade. Shipping is approximately two weeks from the date you placed your order. We will communicate with you if the shipping will take longer.